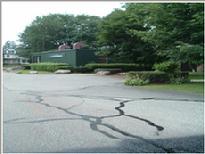 Our Crack Fill Method:
We thoroughly clean and blow out all cracks.
Then we apply hot rubberized crack filler with an applicator that also squeegees the filler flat.
Finally we re-heat the filler to smooth out, and add black silica sand for extra strength.
By not treating cracks, overtime they will take over the asphalt and lead to pot holes.